Dragon Story™
Dragon Game – Your Chance to Become a Dragon Caretaker
If you are fascinated by dragons and enjoy playing building games then you would immediately fall in love with this dragon game. Dragon Story is a fun game in which you get to breed, hatch and grow a variety of dragon species on magical islands in your dragon village. It allows you to become a dragon caretaker and nurture the dragons from mere babies to fully grown adults. You will have to feed and evolve your dragons to grow them up. There is also the option available of breeding rare dragons by combining two different dragon types together. Once your dragons are all grown up, you can use them in dragon battles and participate in tournaments to win great prizes.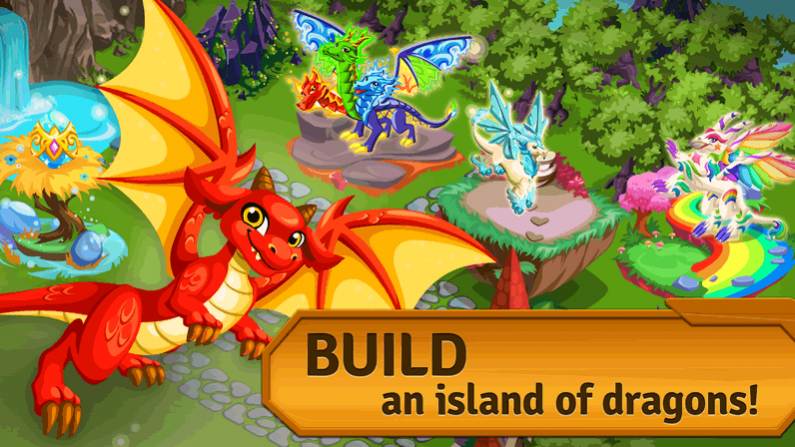 Dragon Story has a slick gameplay which is ably supported by stunning graphics. It makes playing this dragon game a virtual treat. The dragons and their habitats are presented in great graphical detail and you get to view these magical creatures in all their glory. You will encounter no issues in playing this game thanks to its simple set of controls. There is help available for every aspect from the buying of the dragon eggs to hatching them and placing them in their respective habitats. Moreover, you will receive textual directions on how to breed dragons together, grow food for them and evolve them into adults. This will ensure that you are able to master the fundamentals of the game in a relatively short period of time.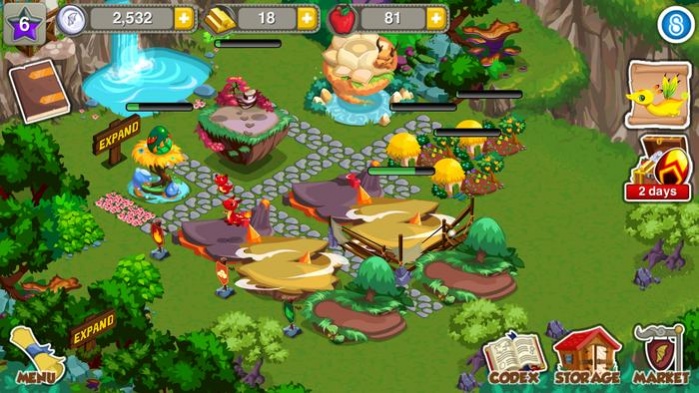 This dragon game lets you collect a variety of different species of dragons. Some of these species are easier to collect while others are rare and require a lot of experimentation. For instance, a fire dragon can be easily obtained by buying its egg from the market. However, a diamond dragon is very rare and has to be bred by combining different dragon species together. You might have to try several different combinations of dragons to get the dragon species you are looking to collect. All the dragons you find in Dragon Story start their life as an egg. You will have to hatch them in the nest and then place them in their respective habitat. Once hatched, the dragons will need food to grow up. You can grow this food on farms.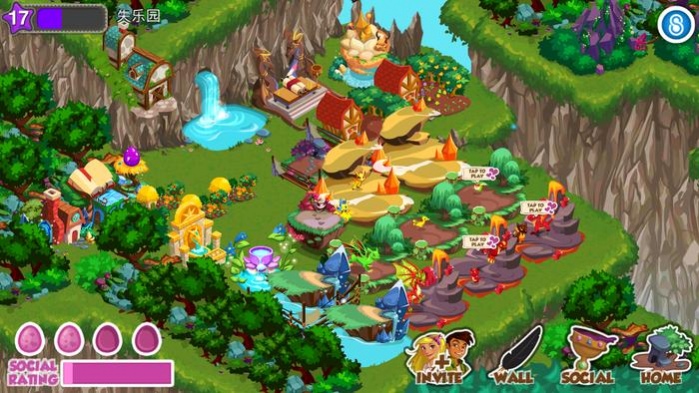 Dragon Story lets you evolve your dragons too. There are four different stages of evolution that each dragon has to go through in order to reach its full size. Dragon evolution is carried out in a temple after the dragon has grown to a certain level. Every task you perform in this dragon game is going to take a little time to complete. Hatching the eggs, breeding of dragons and even their evolution will take some time before they are done. You can instantly complete a task by spending gold. This gold can be earned by leveling up or purchased using real money. You can use this gold for buying rare dragons in the shop section of the game too.
Features:
Various species of dragons to collect
Breed hybrid dragons by combining different dragon types together
Build separate habitats for placing the different types of dragons
Grow food for your dragons on farms
Feed your dragons to grow them up
Participate in tournaments to win great prizes
Lots of decoration items to beautify your dragon village
Connect with Facebook to play with friends
Visit your friends' islands and play with their dragons
Send and receive gifts from your friends
Conclusion:
Dragon Story is a gaming app which will primarily appeal to people who have an interest in dragons and like playing building games. It allows them to become a dragon caretaker and breed dragons of various species which can be used in tournaments to win great prizes. It is an excellent dragon game and can prove to be a nice addition to your phone's game collection.
---
Add a review
Tell us your experience with
Dragon Story™
RELATED PROGRAMS
Our Recommendations
---
---
---
---